Mental health chatbot Numi
CASE STUDY
SUMMARY
Following a prescribed script, chatbot Numi answers sensitive mental health questions, helps to reduce stigma and provides relevant information about mental health care in the Czech Republic.

The goal was to design a user experience which will bring out feelings of calm, safety and support and will be relatable to a young target group.
AWARDS
︎
3rd on Social Impact Award acceleration programme

Google for Startups acceleration programme
DURATION
CLIENT
Thesis project
MY ROLE
• UX design
• UI design
• Idea development
• Business development
• Founder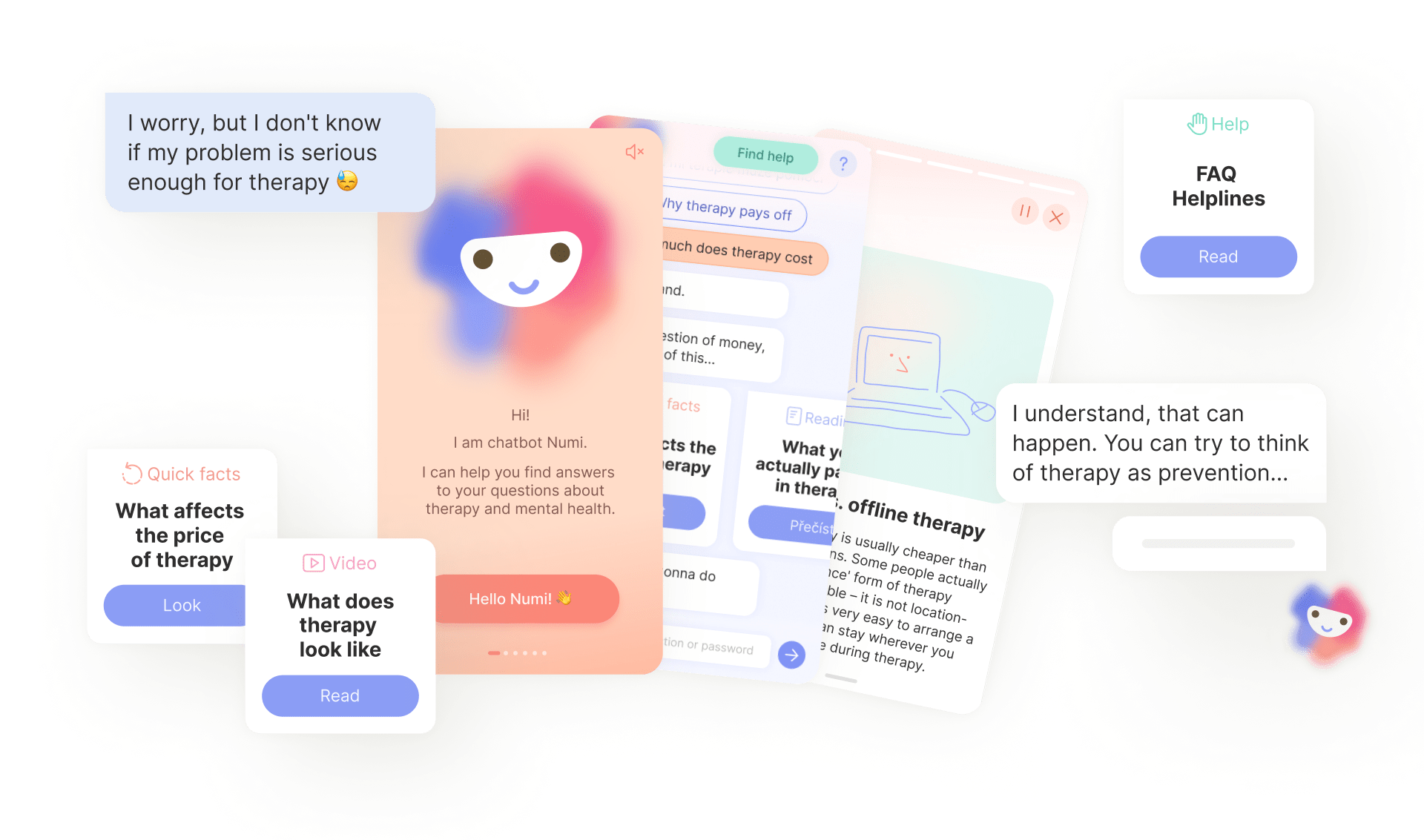 ---
Young people (18-30 years old) who are now one of the most endangered groups by mental health issues in Czech republic. It is estimated that about 400 000 people is now suffering of such troubles (NUDZ, 2021). Unfortunately, system of a mental health care is not working well in Czechia, the access to care is complicated, using the care itself is stigmatized and public is uninformed about the options. It is also very difficult to find information which are evidence-based and easily understandable to such target group. I have decided to try to solve this problem in my thesis.

---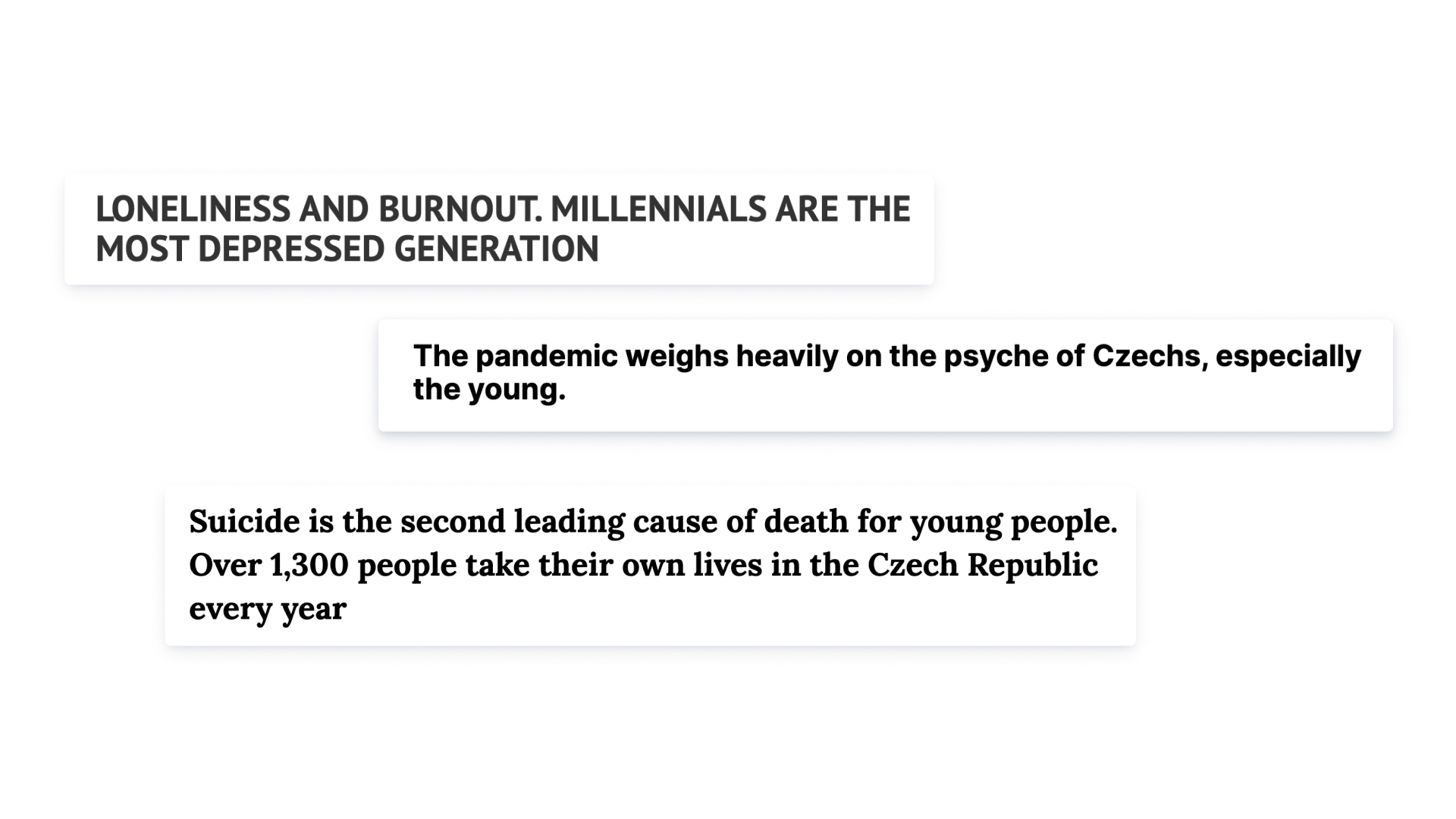 ---
My first contact with the problem was during my own experience with seeking mental-health help and later in the private discussions with my close friends. It seemed that my friends want to solve their issues, but something is holding them back.

I have tested the hypothesis "Young people want mental-health help, but they are discouraged to seek one" in multiple ways to further emphasize with the problem and even verify there is a problem to solve outside of my friends group. I was especially interested in what reasons are holding young people from seeking help and also how they consume informations so I could establish a proper solution which would talk to them, satisfy their needs and minimize their pain points.
---
METHODS USED
questionnaire (396 answers)
deep dive interviews
market research analysis

science studies analysis
existing solutions research
mystery shopping
establishing user personas
---
DEEP INTERVIEWS RESULTS
Core needs I have identified were:
Seeking high quality informations
Seeking someone who a user can trust
Seeking easier navigation to mental-health care options
Seeking safety while asking intimate questions
Seeking advice and help for free
Preferring smart, evidence-based content and a fun experience
---
QUESTIONNAIRE RESULTS
Core struggles with finding therapy were:
Finances (19,8 %)
Mental-health care not accessible (11,2 %)
Worries of therapy being not comfortable (9,2 %)
Time (8,9%)
Fear in general (8,6 %)
Not being sure about how serious my problems are (7,1 %)
Reaction of others (6,8 %)

Users need both practical and personal struggles to be addressed with a particular information delivery.


---
After a research I have chosen to use a chatbot technology as a solution to this problem. Chatbots are proven to work very well in commercial cases as they have many advantages:
nonstop availability
after development very low maintaining costs
natural way of written conversation
customisable anonymity, safety, privacy
great selection of informations
option to use an avatar to further connect with a user
---
IMPORTANT NOTES
Chatbot Numi is not meant to replace a human. In moments of crysis it sends user to a human specialist ASAP.
Chatbot Numi is not meant to provide therapy, diagnose or give advices, it only gives informations and lets user decide about his/hers actions.
Chatbot Numi does not use AI. It is safer and more convinient for user to choose from his options via buttons. Mental health is complicated field and it can not be expected from a user to give safely logical answers. Not to use AI is also economically suitable.

Note: There has been an improvement in AI named ChatbotGPT. Such inventions can make a difference in suitability of using AI in Numi.
---
PROTOTYPING & TESTING
When designing a chatbot's functionality, I started with a extensive wireframing and sketching. I have went through multiple versions until I settled on a one which I could turn into a prototype and test. After usability testing new versions were made. I found out that being in your own target group makes it easier to find friendly users for testing ︎

Numi was developed mobile-first and is a website, not as app, as he is meant to be used for a short time.

---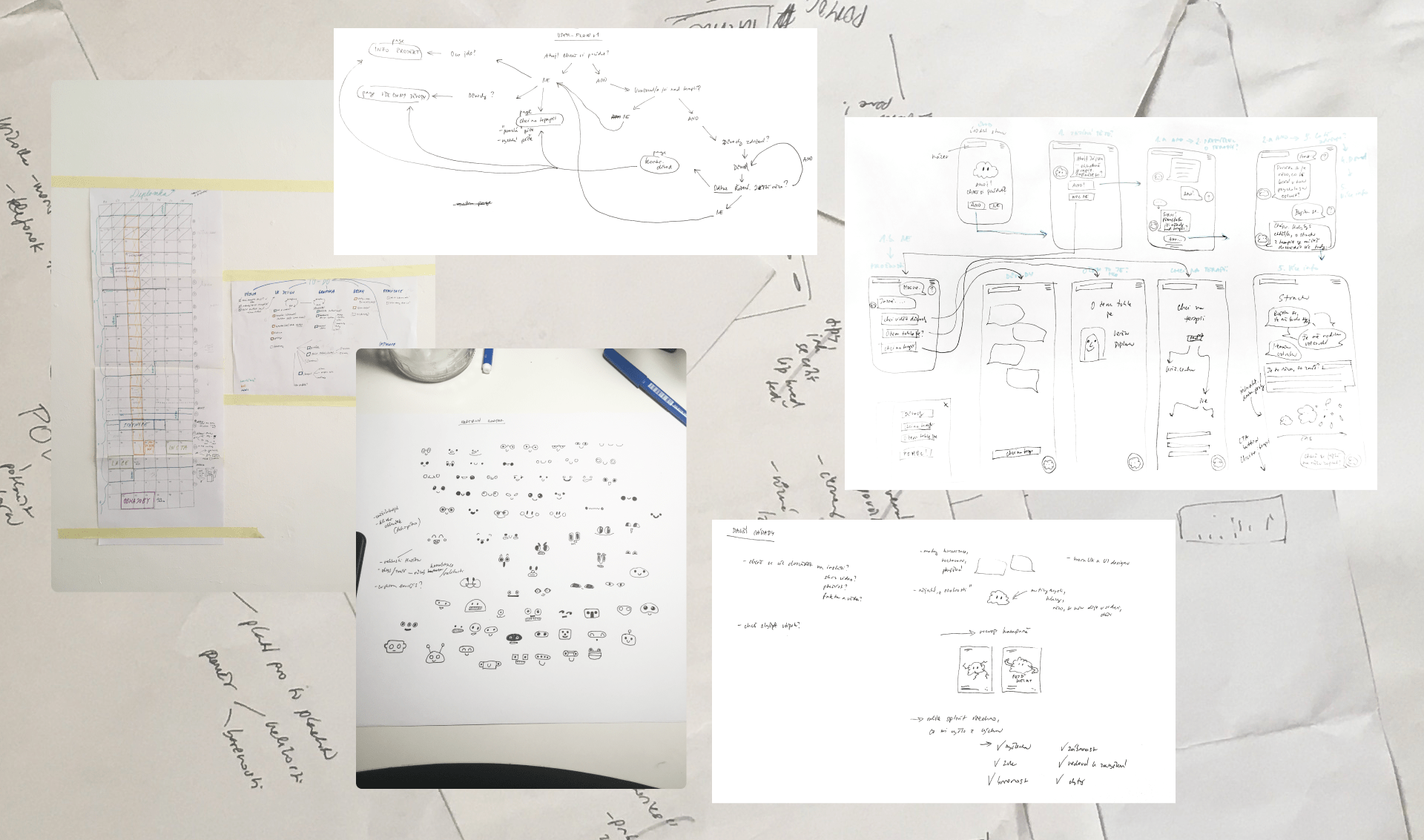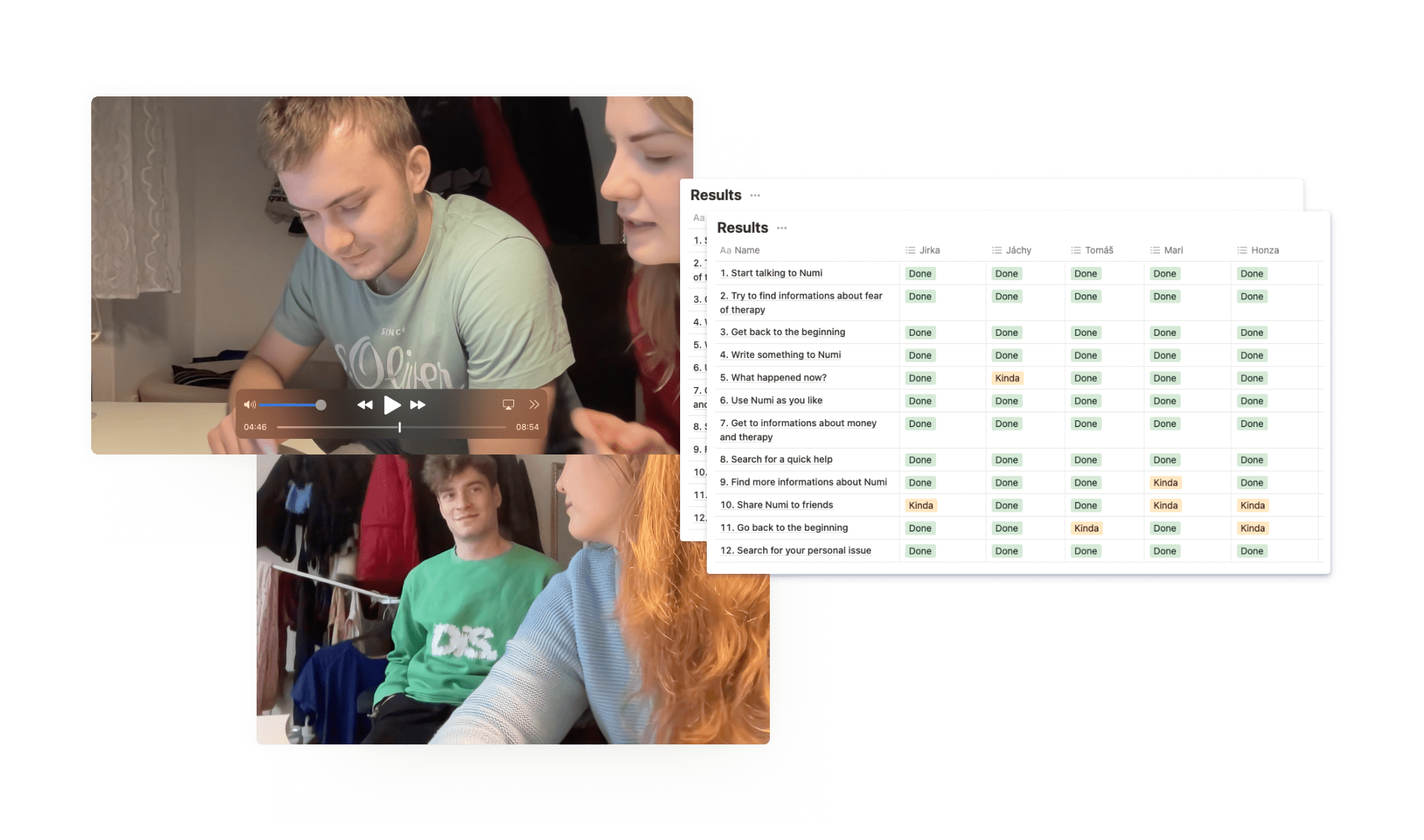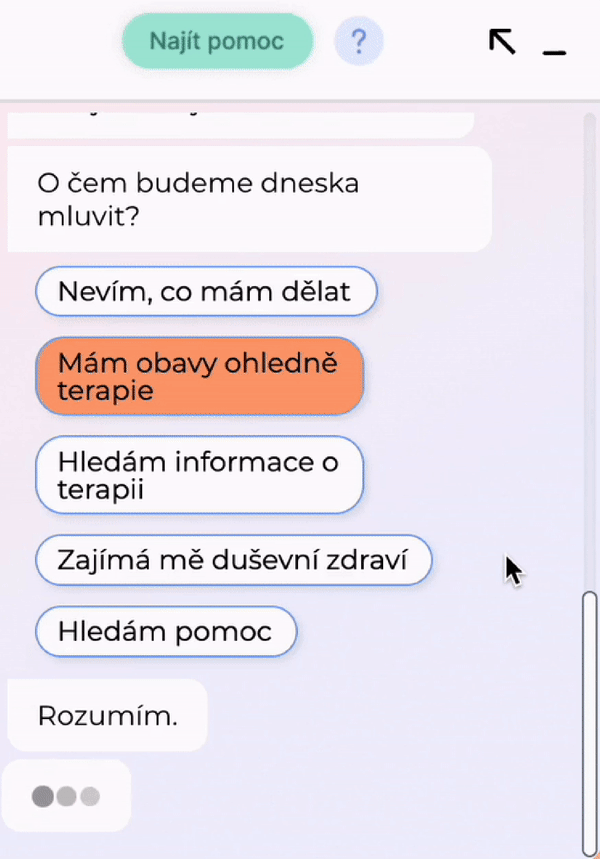 ---
CONVERSATIONAL TREE
Everything in chatbot is connected. To fully understand what I need from the product I had to also develop a content of what chatbot will say – conversational tree. It took many versions to a final tree which is devided to five braches. The tree was heavily consultated with psychologists and the main cross is separating user on the level of their unrest.
---
---
A BIG HELLO
Is needed for catching user attention and establishing relationship with Numi from the beginning. By the animations and behavior of avatar it is possible to sense its personality. The cold dark blue is used in the beginning to further expand the warmth of avatar's presence.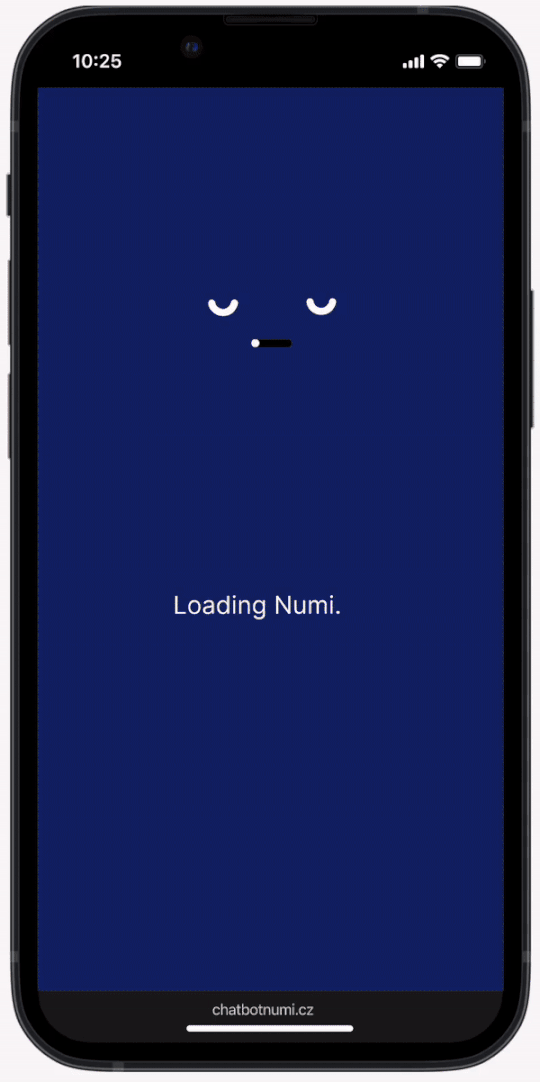 ---
ONBOARDING
Ensures legal necessities as well as informs user about "quick help" feature.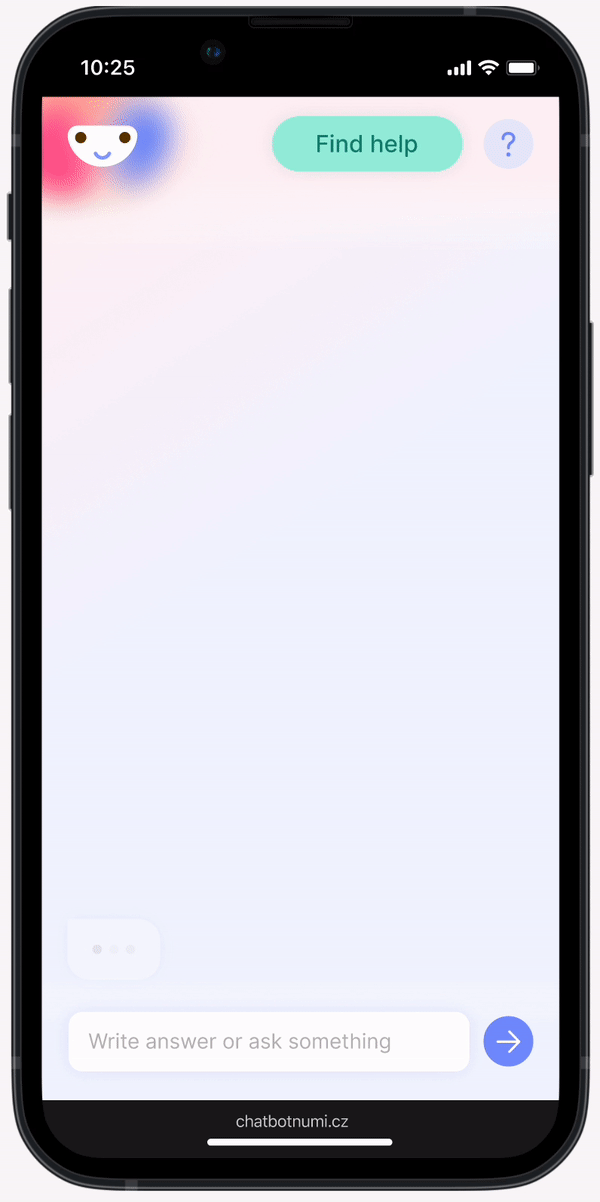 ---
MORE INFORMATION AND VALIDATION IN MENU
Important for a user to see "About us" page to believe that the provided informations are valid or to have a look at the legal details again. It is also important for rating the chatbot to gather feedback.

---
QUICK ACCESS TO HELP
This is essential for ensuring user's safety. The feature was consultated with a helpline crysis psychologist and was considerent convenient.
---
QUICK FACTS AND READING CARDS
I have developed a system of sorting types of information. It is nice to have possibility of a short, quick review using stories mechanism known from social media or to have a option for reading of a more complicated topics.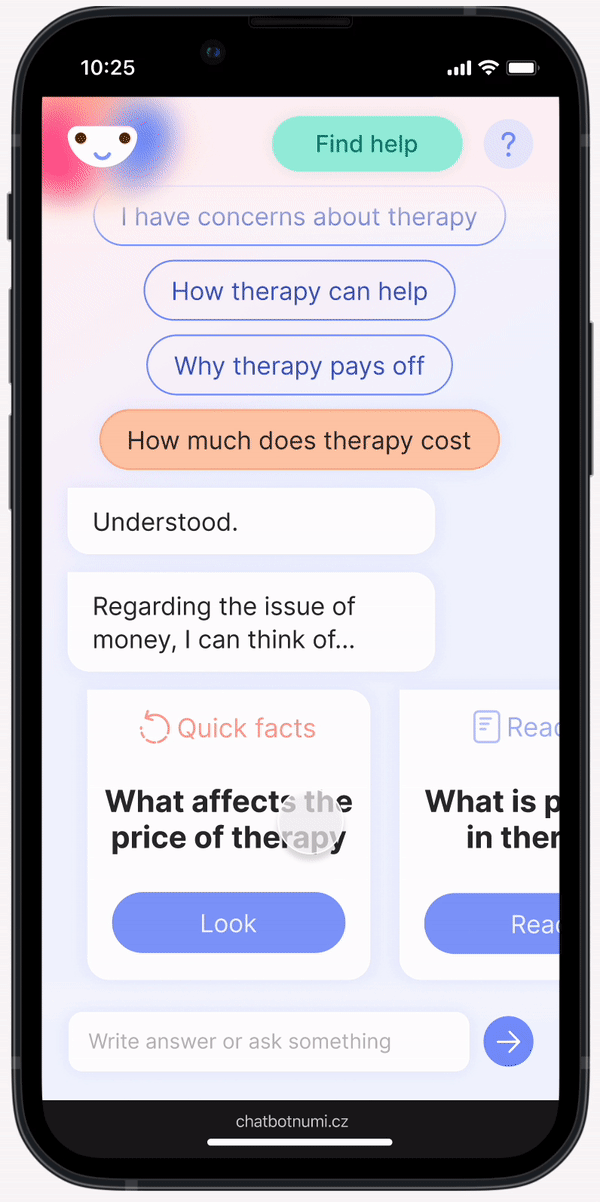 ---
UI design was extremely crucial in this case as the emotional atmosphere of a chatbot effects the users willingness to talk about such intimate topic like mental health is. It was important to make user feel calm and understood. Design of a robot-eternal avatar Numi was a big part of that. He is supposed to be a balanced combination of cuteness, intelligence and friendliness.
---
TONALITY
The visual and writing tonality has to bring an atmosphere of trust, calm and safety. I have designed it with calming colors of peach and blue, soft gradients, subtle delicate type and round, welcoming icon set. Animations are slow and resemble the feeling of relaxed breathing.

Part of the work was establishing a tonality manual for copywriting and creating social media, where I also designed and written the content.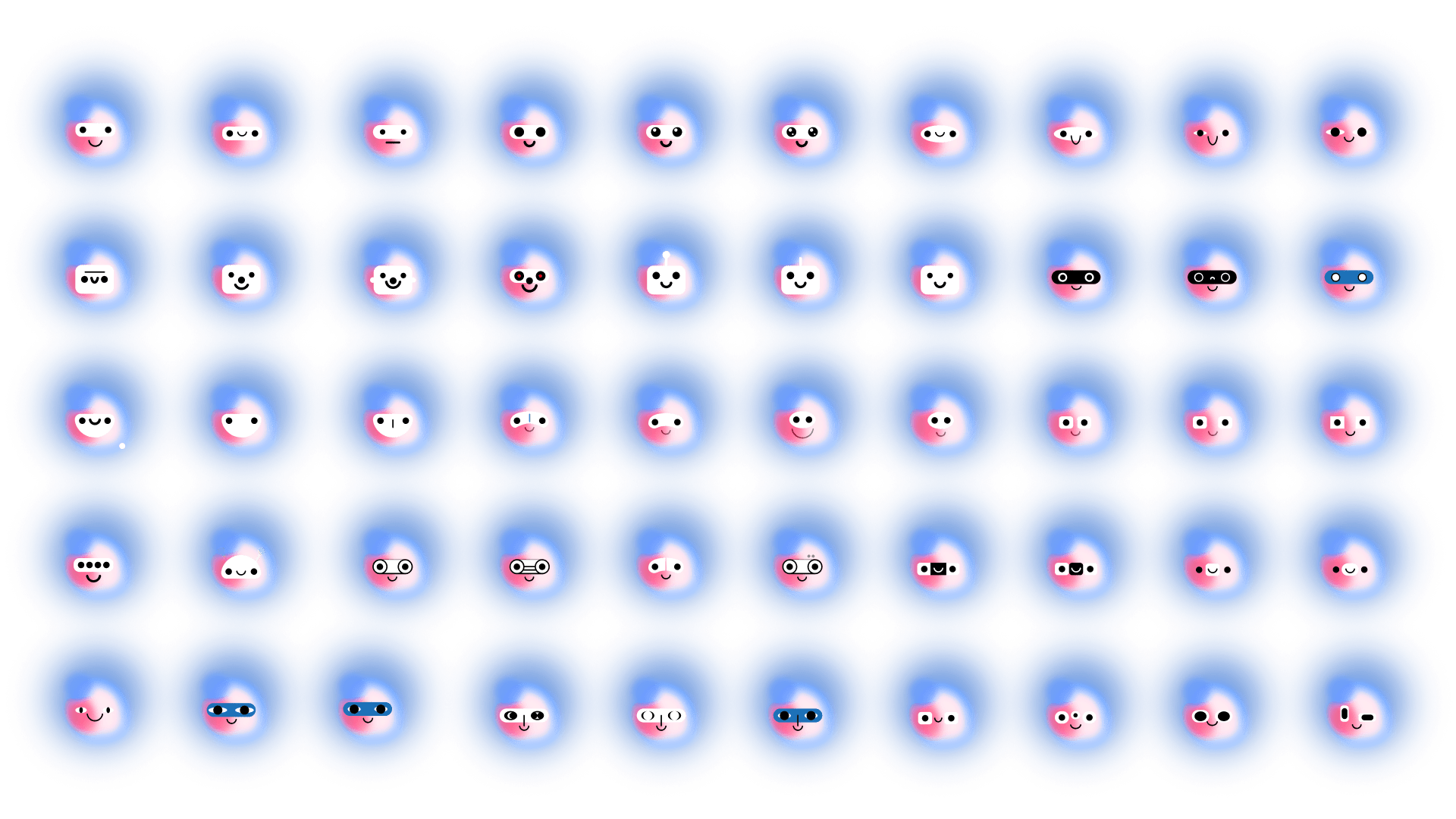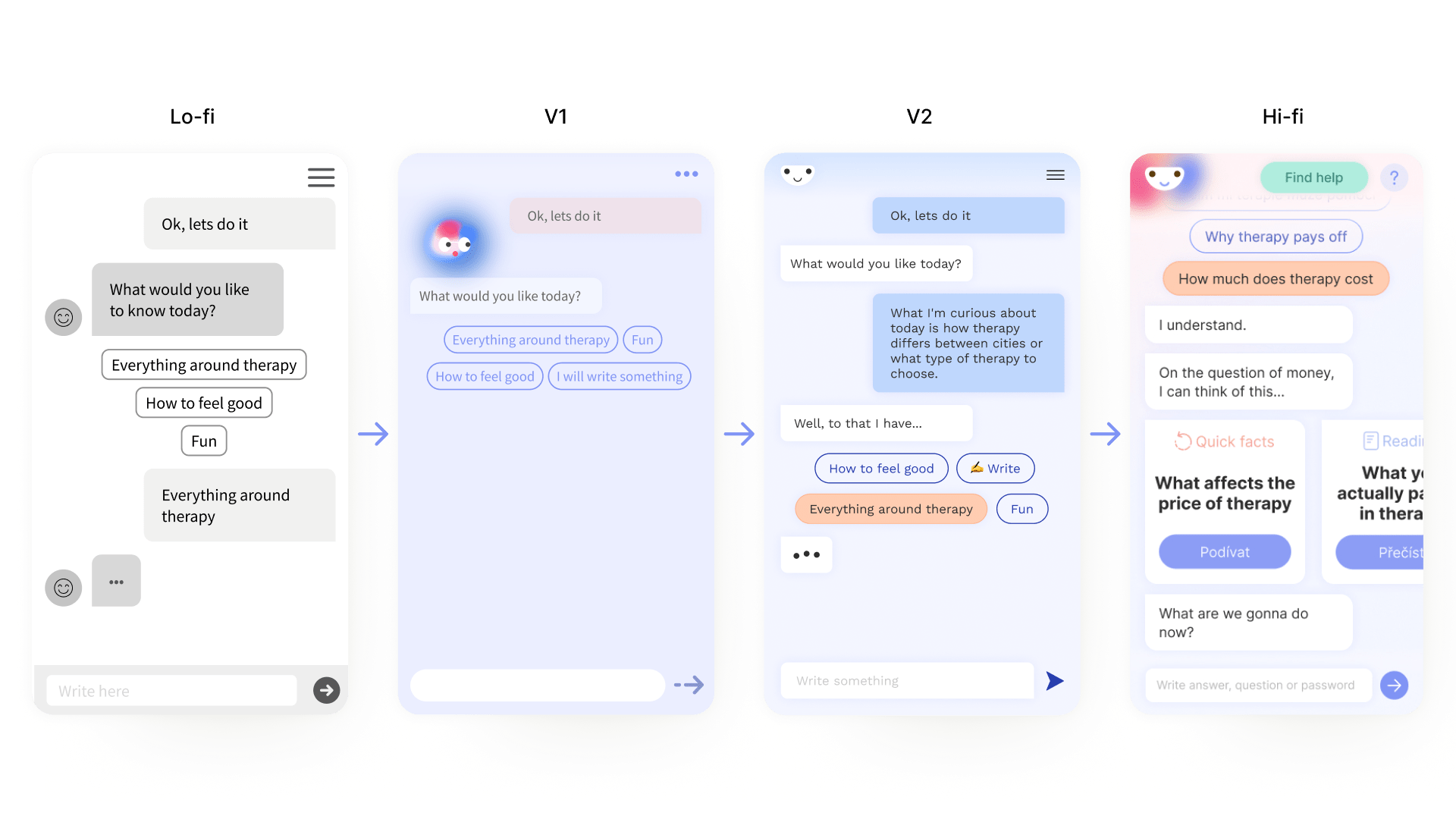 ---
As this was my first complete UX journey, I have learned incredible amount of knowledge. I have understood how important is a research and how crucial getaways can one gain from it. Research is to me also a very entertaining and enriching experience by itself.


I have seen how necessary is prototyping and a proper technique can surprise designer himself.


I have experienced a power of a good and well-thought UI as it is really a first thing which make people say "Aw, I would love to talk to Numi! I need a friend like this", including me.
---
Development



Wireframing

Rapid prototyping


Figma
UX research



Deep-dive interviews

Questionnaire creation and analysis

Wireframing

Users



User personas

Use cases

User stories

---
Story of Numi continues
︎
---
During my thesis I have signed Numi to an
acceleration programme Social Impact Awards
. Luckily I got in and during three months I was
educated
in everything one needs to develop a napkin sketch to a confident business. I went through many
workshops
, consultations with
experts
and a intense
mentorship
. I invited my friend Kateřina Puncmannová to the acceleration and our hard work payed of –
we have won 3rd place
, biggest achievement of my life. The price was a ticket to summit in Vienna which was again full of learning, experience and motivation.
---
After we have
created a team
with our mentors and now four people are
bringing Numi to life
. We are working hard on Numi and currently discussing future with partners and investors. We have also accomplished an
acceleration programme Google for start-ups
. It is an amazing journey and the whole experience have
broadened my horizons of knowledge beyond description.
Our progress is possible to be seen at
@chatbotnumi!
︎
Full team:
Veronika Opatrná (me)
Kateřina Puncmannová

Jakub Kavánek

Anhelina Mahilnitskaya